PreXion3D Cone Beam CT (computed tomography) imaging involves the use of an x-ray arm rotating around your head. While the arm rotates, it captures multiple images and sends them to a digital computer. The digital computer reconstructs the images into a 3D image of your internal anatomy.
---
Cone Beam CT Imaging vs. Traditional X-Ray Imaging
As opposed to traditional 2 dimensional x-ray technology, 3D Cone Beam CT imaging has the unique ability to differentiate tissue types, significantly increase resolution and provide the doctors with the ability to see any area of your dental anatomy from any angle.
The doctors can use this information to make accurate 1-to-1 measurements, identify potential problem areas and precisely plan any treatments.
---
What is PreXion3D Cone CT imaging used for?
General Dentistry
Oral surgery
Implant planning
TMJ analysis
Airway study (sleep apnea)
Jaw tumors
Impacted teeth
Periodontal diseases
Endodontic anomalies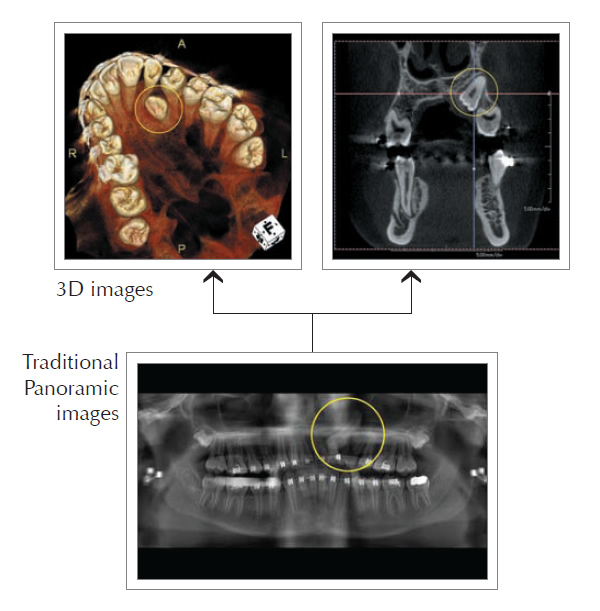 ---
Better Understanding
Within seconds of the PreXion3D scan, the doctors can present you with the 3D & MPR images, give you a virtual diagnosis, offer up a personalized treatment plan with the expected outcome all in one visit.
---
Outstanding Results
The PreXion3D scanner offers your doctor enhanced accuracy, visibility and predictability. The results are a reduction in procedure, surgery and anesthesia time, which ultimately translates into a quicker and more comfortable recovery.
---
Cost
A PreXion3D Cone Beam CT scan is significantly less than a medical CT scan.
---
Time
Because we have a PreXion3D scanner in our office, you can avoid an extra visit to a radiology center or hospital. Plus, it does not require multiple consultation appointments, most treatment plans can be done in one visit.
---
Comfort
Unlike more invasive x-ray machines, the PreXion3D scanner allows you to sit comfortably upright in an open air environment. Plus, a PreXion3D scan can take less than 9 seconds for a scan, as opposed to a regular CT scanner which can take much longer. The PreXion3D scan is completely painless and can dramatically reduce x-ray radiation exposure when compared to normal CT scanners and some older traditional dental x-ray machines.
---
Comparative Superiority
Traditional 2D Panoramic and other dental x-rays are limited when compared to 3D images that can show different angles and planes, allowing the doctors to view any part of your anatomy from any direction or angle.